Dr Ismail Serageldin, Director, Alexandria Library and Chairman, Executive Council of the World Digital Library
We were delig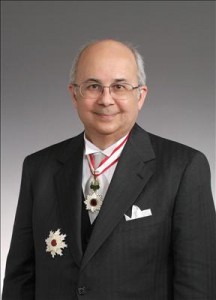 hted to have supported this talk by Dr. Ismail Serageldin, who visited London for a series of talks. This year celebrated the 13th anniversary of the opening of the new Bibliotheca Alexandrina.
Alexandria Library so quickly become the Arab world's key driver in the re-invigoration of its literature and learning. Although dedicated to recapture the spirit of openness and scholarship of its famous forebear, it is far from beingonly a library. Now a leading Arab 'digital capital', it works with the world's technology innovators and leading academic institutes including the Bibliothèque nationale de France, Library of Congress and the Wellcome Library. ItsInformation for Africa programme helps researchers worldwide and it boasts libraries for the arts and multimedia, the visually impaired, young people, rare books and maps and has one of the world's largest Francophone collections outside France. Its museums cover antiquities, manuscripts and the history of science. Its planetarium and ALEXploratorium offer the first exposure to science for Alexandria's children.
Permanent exhibitions feature works of leading Egyptian intellectuals and artists, Arabic calligraphy, Arab-Muslim medieval instruments of astronomy and also contemporary Egyptian art. Its conference centre hosts international meetings up to a thousand delegates, providing multi-lingual translation services. Its chamber orchestra performs regularly and it hosts visiting theatre groups and annual film festivals. In 2004, it coordinated the Alexandria
Declaration (2004), the Arab world's first statement on human rights.
During its planning stage, the British Library advised on its collection policy and, in coordination with the UK Friends of the Alexandria Library, arranged the gift of the microfiche collection of its Arabic manuscripts. At the time of its inauguration in 2002, this was considered one of its most important, enabling its large manuscript department to confidently liaise with experts in Europe and the USA.