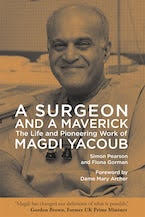 On 17th October at Royal Brompton Hospital there was a small  Reception to launch the biography of the amazing Professor Sir Magdi Yacoub.
The incredible life story of legendary cardiac surgeon and scientist Magdi Yacoub, an outsider who succeeded against the odds.
Veteran journalists Simon Pearson and Fiona Gorman follow the remarkable life of heart surgeon Magdi Yacoub from his formative years in Egypt, through spectacular success at Cairo University, to his long and distinguished career in Britain. Although at times he clashed with the medical establishment in London, Yacoub pioneered great advances in heart surgery. He was knighted in 1992, and in 2014, he was awarded the highest honor in the gift of the Queen, the Order of Merit.
Written with unprecedented access and drawing on extensive interviews and research, the biography recounts how Yacoub transformed the treatment of children with congenital heart disease. He performed some of the first heart transplants in Britain and the first heart-lung transplants in Europe. At London's Harefield Hospital, he created the greatest heart transplant center in the world. Among his patients are men and women who are still thriving more than thirty-five years after he gave them new hope.
This story is also about science, the development of new medical techniques, and a deeper understanding of how the human body works. Today, at an age when most people have long since retired, Yacoub is still pushing the boundaries of scientific understanding and surgical know-how. He is also taking heart surgery to places that until now have had little access to cardiac treatment, developing centers of excellence across Africa, including in Egypt, where his hospital in Aswan has an international reputation, and a new center is rising in Cairo.
Yacoub's life is one of triumph and tragedy, success and failure, fierce criticism and high praise—it is also an enthralling journey through the worlds of scientific research and medical politics and ethics at the highest levels.