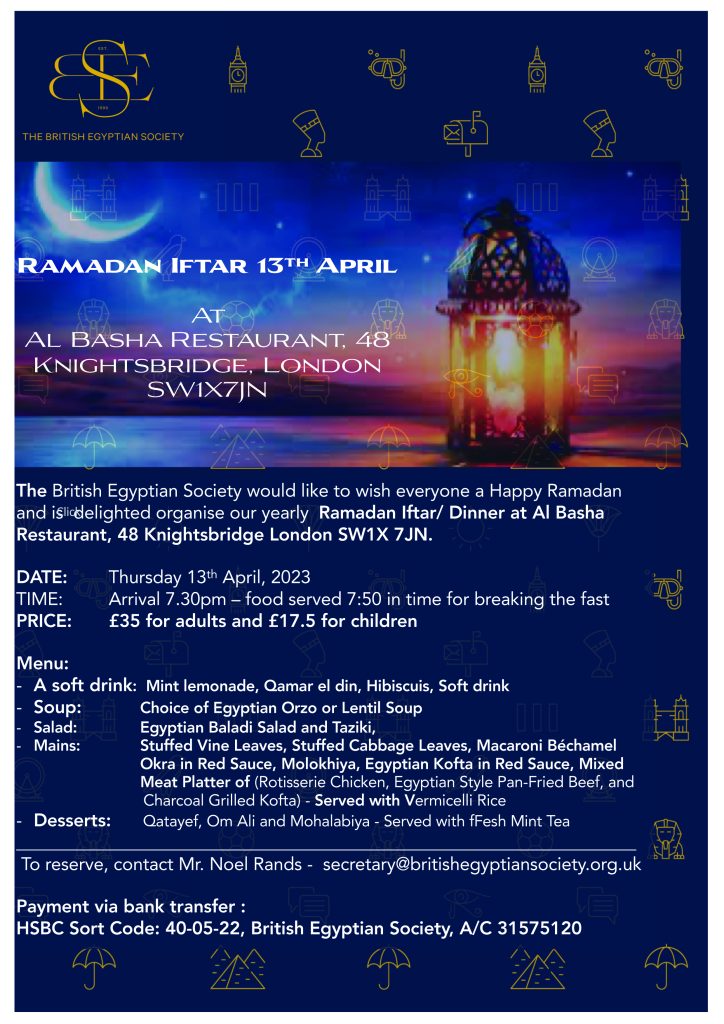 The British Egyptian Society IFTAR on 13th April 2023 was a great success.
51 members and friends came together for a very enjoyable evening.
Ramadan is a Holy Month when Moslems fast during the daytime and look forward to the meal after evening prayers.
Traditionally, those observing Ramadan break their fast by eating three dates, so it was a nice touch that Al Basha Restaurant provided dates on the table.
We were particularly pleased to welcome His Excellency, Mr Mohamed Albulkheir, the Egyptian Consul General, as our guest as well as Ms. Sarah Glubb, of Arab News. I was impressed to learn that she is the granddaughter of Glubb Pasha, who had been so instrumental in creating the modern Royal Jordanian Army before he and King Hussain parted ways.
We are always happy when guests include children and students who seemed to have an enjoyable evening, as did their parents! The food was excellent and the evening was enriched by Egyptian music and videos. At one stage, group singing of an Egyptian song playing on film raised hearts and minds even higher.
Ms Glubb filmed part of the proceedings and interviewed some of those attending. Noel pointed out to her that we were a purely cultural organisation that relied on sponsorship to hold major events. Maybe her plus for us will evoke a response from a generous donor!
Our next event is the visit to Highclere on 1st May with 21 members and friends coming along. We are looking for future events later in the year and will keep you informed.